The entrance to the vault is situated on the north side of the Chicheley Chapel, directly beneath the centre window. It is approached by a flight of brick steps, the beginning of which projects out into the churchyard about 8 feet 6 inches. The level of the vault is reached at a depth of 7 feet. The steps descend between two brick walls which are 5 feet 8 inches in height. Boards are placed over the steps and resting on the walls and the whole covered with earth to a depth of one foot. There are eight steps. The door into the vault was of oak, but has rotted and is lying in pieces.



The vault itself measures approximately 10 feet by 15 feet constructed of brick which has been limewashed. The floor is of brick also, except for two narrow shelves a few inches from the floor on either side of the doorway. These shelves are of small square slabs, one of the shelves on the right hand side is empty. The ceiling is rounded and at its highest point, in the centre, is approximately 5 feet 8 inches high. In the centre of the roof at approximately 5 feet and 10 feet from the door are two circular holes about 1 foot in diameter which appear to be closed at the top by the pavement of the chapel.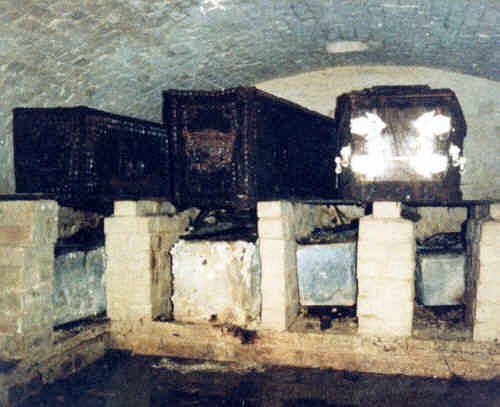 The Hardwicke Family Vault
showing coffins 1 to 7 inclusive.
(photographed in 1985)
The vault contained nine coffins of wood with lead linings, number 3 adorned with silver furnishings. Except for this coffin, the woodwork was badly decayed and the lead linings exposed. One coffin (number 9) was lying on the shelf on the left hand side of the doorway. The others were in two rows, one above the other, facing the door, as follows:
1. The Hon Mrs Henry Yorke
2. Ven. Henry Reginald Yorke
3. Rt. Hon. Charles Philip Yorke (4th Earl)
4. Rt. Hon. Charles Philip Yorke
5. Admiral Sir Joseph Sydney Yorke, K.C.B.
6. Elizabeth Wheake Yorke
7. Master Horatio Nelson Yorke
8. Lieut. Hon. Victor Alexander Yorke
9. Harriet, Widow of the Rt. Hon. Charles Yorke
The coffin plates are legible and are noted below (against the above key which gives the coffin positions in the vault). A low brick wall has been built between each coffin in the lower row. Iron bars have been placed across these walls to hold the coffins in the upper row.