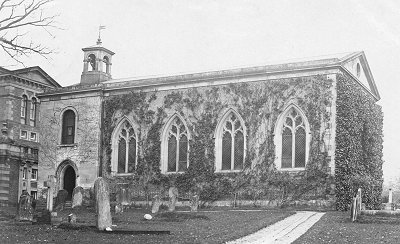 St Andrew's Parish Church, Wimpole (c1910)






Marriages 1800-1863


Parish Registers
St Andrew's Parish Church

A local history and genealogy page for the Parish of Wimpole.




Notes:



The date given is the date of marriage.



(x) means "his/her mark" (ie unable to write or sign).



The original spelling of names (as transcribed) has been retained.


(B.T.) indicates the entry as shown in the Bishop's Transcripts 1599-1812 where it differs from the entry in the local church register. For more details, see the original Introduction written by T.P.R. Layng in 1983 on the Parish Registers page.]


Information, notes and comments additional to the Registers are shown within [square brackets]



Over 1000 surnames that appear in the Parish Registers for Wimpole have been Indexed Alphabetically.



(2004) These listings are based on the Church Registers for the Parish of
Wimpole, as transcribed and collated by T P R Layng in March 1983. Originally
typed by C L and A E Hatton. Additional research and indexing for this website
by Steve Odell.

(2017) I have also compared the Layng website transcript below with the commercially available Cambridgeshire Family History Society version. Any
significant differences have been so identified.


Contined from Marriages 1700-1799


24 May 1800
BARNET
John (x), widower, and Sarah BARSLEY, spinster, both of this parish.
Witnesses: Alexander Brodwood and Richard Sharp
12 October 1800
DELLOW
George x), bachelor, and Mary OKINS (x), spinster, both of this parish.
Witnesses: Richard Sharp and William Erswell
29 March 1801
GALLOWAY
George of Edmonton, Middlesex, bachelor and Mary Anne MACFARLANE, spinster, of this parish, by licence.
Witnesses: Robery Harvey and John Galloway
8 October 1801
SMITH
Thomas (x), bachelor, and Susanna TINGEY (x), spinster, both of this parish.
Witnesses: Richard Parker, Sarah Taylor(X) and Elizabeth Taylor (x)
10 November 1801
GOATS
John (x) of this parish and Elizabeth BLACKTOP (x) of Great Eversden. Witnesses: Samuel Blacktop and Richard Sharp
10 November 1801
HICKS
James (x), of this parish and Lydia BLACKTOP (x) of Great Eversden.
Witnesses: Thomasin Garratt and Richard Parker
2 February 1802
GATTWARD
William, bachelor, of Little Eversden and Sarah TAYLOR (x), spinster, of this parish.
Witnesses: Samuel Gentle and Richard Parker
19 October 1802
TOWNSEND
William, of this parish, and Rebecca FREEMAN of Saffron Walden.
Witnesses: Mary Townsend and Charles Thorp
21 October 1803
PRIME
James (x), bachelor of this parish and Elizabeth TAYLOR (x), spinster of Orwell. Witnesses: Richard Parker and James Gill
16 January 1804
REED
Joseph (x), bachelor, and Anne SIMMONDS (x), spinster, both of this parish.
Witnesses: Richard Parker and Laurence Lander (x)
17 June 1804
COURCE
John (x), bachelor of Bassingbourn, and Lydia LEET (x), spinster of this parish.
Witnesses: Richard Moule, W.Sheepshanks and Richard Parker
16 October 1804
HARRADINE
James (x), bachelor, and Rose BROCKES (x), spinster, both of this parish.
Witnesses: William Parker, John Barnes (x) and Mary Worland (x)
1 December 1804
WILKES
John (x), bachelor, and Elizabeth WORLAND (x), spinster, both of this parish.
Witnesses: Philip Arber and Samuel Custerson
25 December 1804
GADD
William (x), bachelor, and Kezia EVANS (x), spinster, both of this parish.
Witnesses: William Sheepshanks, Richard Parker and Anne Kefford (x)
8 February 1805
COOPER
Henry (x), bachelor of this parish and Sarah MERRY (x) spinster of Orwell.
Witnesses: Richard Hitchcock and John Baron
17 February 1805
GOOBY
Robert (x), widower, and Ann BURKITT (x), spinster, both of this parish.
Witnesses: George Long and Richard Parker
16 October 1805
WHETSTON
John, bachelor, and Elizabeth BROOKES (x), spinster, both of this parish.
Witnesses: William Dean (x) and Richard Parker.
26 November 1805
GOATS
James (x), bachelor, and Anne DOCWRA (x), spinster, both of this parish.
Witnesses: Mary Saggers, Maria Sheepshanks, Louisa Sheepshanks and Richard Parker.
5 December 1805
STEVENSON
John, of Little Eversden, widower, and Elizabeth CUSTERSON, spinster of this parish, by licence.
Witnesses: John Northrop and Sarah Custerson
7 May 1806
SARGEANT


(signs SERJENT)

Philip, bachelor of this parish and Massey KIDMAN (x), spinster of Whaddon.
Witnesses: Ann Dubois, Lydia Kidman (x) and Richard Parker
10 June 1806
CHAPMAN
Thomas and Charlotte HICKS (x), both of this parish.
Witnesses: Elizabeth Tebles? and James Kefford
6 October 1806
BEARD
William (x), bachelor of Caxton and Frances HEWITT, spinster of this parish.
Witnesses: Thomas Beard, Elizabeth Tebbles? and William Brown
16 October 1806
HUNT
Richard (x) widower of Arrington and Elizabeth BOWTLE (x) spinster of this parish.
Witnesses: Philip Serjent and Mary Archer
1 November 1806
JACKSON
Thomas, widower of St Mary le Bone, Middlesex and Elizabeth SUTTON, spinster of this parish, by licence.
Witnesses: Mary Watts, Sarah Reay?, Mary Ann Hayward and Fanny Thrumphetts?
19 October 1807
BLACKTOP
Henry (x) bachelor of Edmonton, Middlesex, and Sarah JACKSON (x) spinster of this parish.
Witnesses: Mary Bowes, Maria Sheepshanks and Louisa Sheepshanks
18 April 1808
BARLOW
John, bachelor of Christ Church, London, and Mary ARCHER, spinster of this parish.
Witnesses: Maria Sheepshanks, Louisa Sheepshanks and William Barlow
23 June 1808
HART
William, bachelor of Toft, and Sarah CUSTERSON, spinster of this parish, by licence.
Witnesses: George Compton, Elizabeth Stevenson, Thomas Sheepshanks and Richard Whichell
14 March 1809
EVANS
John (x), bachelor, and Sarah GOATS, spinster, both of this parish.
Witnesses: Martha Blows, Elizabeth Low? and Richard Parker
12 October 1809
LITCHFIELD
John (x) , bachelor, and Esther RUMBOLD (x), spinster, both of this parish.
Witnesses: George Pettit and Richard Parker
17 October 1810
WALLER
William (x) and Ann KITSON (x), both of this parish. Witnesses: Richard Parker and Joseph Ward
18 October 1810
RAYNER
John (x), bachelor, and Elizabeth WHITBREAD (x), spinster, both of this parish.
Witnesses: Richard Parker and Joseph Ward
27 October 1810
PETT
John (x), bachelor of this parish, and Anne LAWSON (x) spinster of Kingston.
Witnesses: Mary Goats and Joseph Ward
15 November 1810
BEARD
Lee, bachelor of Long Stowe, and Sarah HITCHCOCK, spinster of this parish.
Witnesses: George Smith and Dennis Walton
16 October 1811
BAKER
Richard (x), bachelor, and Mary GOATES (x), spinster, both of this parish.
Witnesses: Mary Dewe, Eliza Dewe, Martha Blows and Richard Parker.
13 April 1812
SOREE
Charles, bachelor and Elizabeth THOMSON, spinster, both of this parish, by licence.
Witnesses: Elizabeth Garland Sheepshanks, Maria Sheepshanks, William Sheepshanks and Richard Parker.
23 May 1812
SMITH
William (x), widower, and Elizabeth Anne HOOKER, spinster, both of this parish.
Witnesses: Elenor Cole, Edyth Cooper and George Jeffrey.
2 November 1812
PRATT
John (x), bachelor, and Lydia WORLAND (x), spinster, both of this parish.
Witnesses: Ann Worland and Joseph Matthews
12 October 1812
BISHOP
John (x), bachelor, and Mary BASS (x), spinster, both of this parish.
Witnesses: John Clark and Richard Parker
2 June 1813
FRIEND
William, of Wisbech St Peter and Sarah WINTERS, spinster of this parish.
Witnesses: Hannah Webster and George Smith
8 July 1813
COWELL
Joseph (x), bachelor and Elizabeth HAGGER (x), spinster, both of this parish.
Witnesses: Hannah Webster, Robert French and Anne Wallis (x)
29 October 1813
PETT
Brown (x), bachelor, and Anne COOPER (x), spinster, both of this parish.
Witnesses: Edith Cooper, Susanah Pett and Elizabeth Harrison
4 November 1813
WILKINS
Thomas Esq., widower of Hornsey Middlesex and Elizabeth Garland SHEEPSHANKS, spinster of this parish, by licence.
Witnesses: Earl of Hardwicke, Elizabeth Yorke, Caroline Yorke and William Sheepshanks
28 January 1814
ALBON
William, bachelor, and Susannah PETT, spinster, both of this parish.
Witnesses: Sarah Barlow, Ann Worland and Thomas Sheepshanks
24 November 1814
EASY
Simeon (x) and Sarah WILMOTT (x), both of this parish. Witnesses:
William East and Robert French
16 February 1815
MAYLE
William, bachelor of St Mary Bedford, and Susanna PORTER, spinster of this parish, by licence.
Witnesses: John Mayle and Mary Porter
19 August 1815
READ
James (x), bachelor of Little Walden Essex, and Ann WORLAND, spinster of this parish, by licence.
Witnesses: B Porter and Robert Elliston
30 September 1815
KIDD
William (x), bachelor, and Jane MORRIS (x), spinster, both of this parish.
Witnesses: Mary Turner, Robert French, Susan Wiltshire (x) and Brown Pett (x)
3 October 1815
CHAPMAN
John, bachelor of this parish, and Elizabeth CLARKE (x), widow, of Arrington.
Witnesses: Edward Cole, Robert French and Caroline Dawes (x)
28 May 1816
GOATS
Morris (x), bachelor, and Anne BROWNE (x), spinster, both of this parish.
Witnesses: Elliz Rayner?, Anne Allen and Robert French
24 June 1816
COLLIN
James, widower of Arrington, and Elizabeth GOATS, widow of this parish.
Witnesses: Richard Baker and Isabella Allen
13 October 1816
PRIOR
William (x), bachelor, and Ann GADD, spinster, both of this parish,
Witnesses: Robert French, Browne Pett (x) and Mary Cooper (x)
25 March 1817
PRATT


John (x), widower, and AnnYAXLEY, spinster, both of this parish.
Witnesses: Jane Pratt and Robert French
5 February 1818
ELLIOTT
Thomas, bachelor of Meldreth, and Emma TITCHMARSH, spinster of this parish, by licence.
Witnesses: Thomas Pannell, Regina Titchmarsh and Eliza Titchmarch
23 March 1818
JACQUES
John, bachelor of Little Eversden, and Susanna WORLAND (x), spinster of this parish.
Witnesses: Robert French, William Worland (x) and Mary Wilmot (x)
28 December 1818
COCKERILL
Thomas, of Croydon, and Mary PORTER of this parish, by licence.
Witnesses: Thomas Jackson and Jas? Cockerill
17 March 1819
PUMFORD
Stanford (x), and Mary COOPER (x), both of this parish.
Witnesses: William Walton, Elizabeth Cooper and Robert French
13 October 1819
MARRIOTT
Edward, of Elmdon, Essex and Sarah Elizabeth FRENCH, of this parish, by licence.
Witnesses: Elizabeth Marriott, Mary French, Caroline Hitchcock, Robert French and William French
30 June 1820
MOULE
John, bachelor of Royston, and Mary FRENCH, of this parish, by licence.
Witnesses: Caroline Hitchcock, Robert French and Joseph Knowles
15 September 1820
WHITBY
Adam (x) and Sarah BULLEN (x), both of this parish.
Witnesses: Robert French and Elizabeth Cooper
24 December 1821
COURSE
James and Elizabeth DELLOW, both of this parish.
Witnesses: Hariot Harding and William Course
30 December 1821
LONG
David and Jane DALLEY, both of this parish, by licence.
Witnesses: Robert Hill and Sarah Hill
24 January 1822
PETT
Jesse (x), and Sarah BROWN (x), both of this parish. Witnesses: David Long and Elizabeth Hitchcock
28 April 1822
WORLAND
Thomas (x), and Elizabeth COOPER, both of this parish. Witnesses:
John Chapman, Thomas Slight? and Thomas Ingry (x)
24 June 1822
NEWILL
George (x), and Elizabeth Margaret HITCHCOCK, both of this parish.
Witnesses: Carolina Hitchcock and John Chapman
30 July 1822
TEETE
John of Arrington, and Caroline HITCHCOCK, of this parish.
Witnesses: William Pateman, Helen Dwyer and John Chapman.
1 October 1822
WARD
Thomas (x), bachelor, and Mary Wilks FREEMAN, spinster, both of this parish.
Witnesses: Elizabeth Brown and John Chapman
18 December 1822
FLANDERS
Zachariah, bachelor of Melbourn, and Susannah ALBON, widow of this parish.
Witnesses: Joseph Pryor, Charlotte Flanders and John Chapman
13 May 1823
RULE
William (x), and Susannah WALTON (x), both of this parish.
Witnesses: Elizabeth Hicks, Sarah Rule (x), John Chapman and Thomas Rutter (x)
10 June 1823
PRATT
Robert (x), bachelor, and Elizabeth KIDD (x), spinster, both of this parish.
Witnesses: Emma Barker, Mary Kidd and John Chapman
3 November 1823
GENTLE
William of Orwell, and Hannah MOULE of this parish.
Witnesses: Mary Newman, George Moule (x) and John Chapman
1 December 1823
WILKINS
William (x) of Arrington, and Lydia RULE (x) of this parish.
Witnesses: Thomas Rutter (x), Lydia Skinner? and John Chapman
29 September 1824
CLARKE
William (x), and Sarah WHITBY (x), both of this parish, by licence.
Witnesses: Mary Whitby (x), William Yaxley and Thomas Johnson
2 December 1824
PRIME
Robert, of Little Eversden, and Eliza Ann TITCHMARSH, of this parish, by licence.
Witnesses: Mary Prime, Kezia? Titchmarsh, Charles Titchmarsh and John Chapman
23 May 1825
HUDDLESTON
David, and Elizabeth HARDWICK (x), both of this parish.
Witnesses: Jane Sutton (x), Thomas Cornhill (x) and John Chapman
12 September 1825
PORTER
Ebenezer, of Croydon, and Sarah Ann PORTER, spinster of this parish, by licence. Witnesses:
George Edward Porter, John Chapman, Mary Wenham, Sarah Cockerill and Peter Smith Wenham
30 May 1826
SMOOTHY
Charles, of Hadstock Essex, and Martha PORTER, of this parish, by licence.
Witnesses: George Edward Porter and John Chapman
12 July 1826
COOK
John (x), of Long Stow, and Rebecca WILLMOTT (x), of this parish, by license.
Witnesses: John Chapman, Elizabeth Wollon and Dennis Walton
23 October 1826
KIDD
John (x), of Royston, and Fanny TAYLOR, of this parish. Witnesses: Mark Pestell, Mary Barron, Joseph Taylor, Ann Merry and John Chapman
1 March 1827
WHETSTONE
William, and Mary RUMBELL, both of this parish.
Witnesses: William Willmott (x), Elizabeth Rumbell and John Chapman
12 April 1827
WILKIE
Thomas, and Ruth SMITH, both of this parish, by licence.
Witnesses: George Smith, Emma Smith and John Chapman.
23 October 1827
GRAVESTOCK
James (x), bachelor of Little Eversden, and Ann WARD (x), spinster, of this parish.
Witnesses: John Cater, Ann Chapman and John Chapman
28 October 1827
PELL
William (x) bachelor, and Frances HAGGER (x), spinster, both of this parish.
Witnesses: John Yaxley? Mary Hagger (x) and John Chapman
6 October 1828
CATER
John, bachelor of Great Eversden, and Elizabeth PELL (x), spinster of this parish.
Witnesses: William White (x), Mary Cater (x) and John Chapman. [Banns called previously, also 15 October 1826 as John Cator the younger of Arrington and Elizabeth Pell of Camden, Middlesex]
30 October 1828
BROWN
Samuel (x) of Orwell, and Sarah RULE (x) of this parish.
Witnesses: Susannah Rule (x), William Rule (x) and John Chapman
30 November 1828
EVERSDEN
William (x) of Orwell, and Lydia SKINNER (x) of this parish.
Witnesses: Samuel Skinner (x), Edith Skinner and John Chapman
30 April 1829
PATEMAN
James of Orwell, and Ann PATEMAN of this parish, by licence.
Witnesses: William Pateman, Marianne Pateman and John Chapman
10 August 1829
SMITH
James, and Caroline TEET, both of this parish.
Witnesses: John Milne and Sophia Smith
14 September 1829
GADD
John (x), and Sarah REED (x), both of this parish.
Witnesses: George Oliver and Lucy Goats
7 October 1829
CHRISTMAS
Samuel (x) of Steeple Morden, and Sophia WALTON of this parish.
Witnesses: James Christmas (x) and Thomas Dall
7 October 1829
MOULE
George of Arrington, and Elizabeth HICKS of this parish.
Witnesses: Mary Christmas and Thomas Dall
18 May 1830
STOREY
John (x) of Croydon cum Clopton, and Rachel BRAND (x), of this parish.
Witnesses: Thomas Brand (x) and Caroline Storey (x)
22 June 1830
BRADFORD
Edward (x) of Tottenham Middlesex, and Francess WORLAND (x) of this parish, by licence.
Witnesses: Thomas Johnson and John Sergent
15 September 1830
CHARTER
Joseph (x) of Arrington, and Lucy GOATS of this parish.
Witnesses: John Goats (x) and Ellen Clark (x)
13 October 1830
GADD
Thomas (x), and Mary WHITBY (x), both of this parish.
Witnesses: Prime Whitby (x), Eleanor Clark (x) and John Chapman
17 November 1830
MILLER
William (x) of Arrington, and Edith SKINNER (x) of this parish.
Witnesses: Samuel Smith (x) and Mary Cubis
28 December 1830
STANFORD
James (x), and Charlotte YAXLEY, both of this parish.
Witnesses: Edward Wollen (x) and Mary Ann Yaxley (x)
23 February 1831
MULBERRY
James (x), and Elizabeth RUMBOLT (x), both of this parish.


Witnesses: John Serjent and Sarah Hicks

14 May 1831
LAW
William of Croydon cum Clopton, and Jane CHARTER of this parish.


Witnesses: James Law and Sarah Osborn

12 October 1831
WHITBY
Prime, and Ruth DELLAR [signs Dellow], both of this parish.


Witnesses: James Whitby (x) and Sarah Hicks

26 November 1831
GIDEONS
William of Arrington, and Emma CRANE of this parish.


Witnesses: Richard Gideons (x) and Rhoda Gideons (x)

12 December 1831
THOMSON
Isaac (x) of Croydon-cum-Clopton, and Sarah MASER (x) of this parish.
Witnesses: John Moule and Mary Hewitt (x).
[Croydon Speculum Gregis by Rev Francis Fulford 1843-1847 records:

"Page 52. Isaac and Sarah Thompson. Can both read. He works for Mr Jackson on the roads; she has bad health. He was a widower and has one daughter by his first wife. He sings in the choir, was married to his present wife at Wimpole. She is a Wimpole woman. Steady respectable people. She comes from Cheshunt. Daughter Anne, aged 15, can read, grand daughter to widow Edwards."

(Isaac took part in the Croydon>Threshing Machine Riot of 1832 and was sentenced to six month's imprisonment.)]
26 January 1832
BULLIN
Edward (x) and Lydia STANFORD, both of this parish.


Witnesses: John Goats (x) and Mary Stanford

17 February 1832
GOATS
John (x) of this parish, and Sarah SIMPSON (x) of Croydon-cum-Clopton.


Witnesses: John Pratt and James Simpson (x)

14 May 1832
RULE
John (x), and Elizabeth CARTER (x), both of this parish.


Witnesses: James Rule (x) and Rebecca Law (x)

14 May 1832
OSBORN
William (x), and Sophia PRATT, both of this parish.


Witnesses: Samuel Osborne (x) and Eliza Smith

18 June 1833
WALLIS
Thomas, bachelor of Comberton, and Anne SMITH, spinster of this parish, by licence.


Witnesses: George Smith and Jane Lee.




[This marriage produced five children: Sarah born 23-Dec-1835, John born 12-Jun-1837; Emma born in 1839; Annie born in 1845 and George born 16-Jul-1848. It is believed Thomas went to Canada in 1947/48 with the older children for a 'new life' and abandoned Anne and her two youngest children as paupers 'on the parish' in Comberton. Anne was buried in Comberton on March 10 1886 at the age of 75.]

28 October 1833
RULE
William (x), widower, and Rebecca DEEKS (x), widow, both of this parish.


Witnesses: James Rule (x) and Rebecca Law (x)

22 April 1834
WOODS
James (x), bachelor of Croydon, and Elizabeth GADD of this parish.


Witnesses: Susan Wilks? and John Chapman.


[Croydon 'Speculum Gregis' by Rev Francis Fulford 1843-1847 records:

"Page 19. The next house in the road to Hagger's. James and Elizabeth Woods. He can't read. She keeps a day school, and is schoolmistress in the Sunday School and is a communicant. She comes from Wimpole, where they were married. Elizabeth attends church very regularly. He is a most honest, hardworking man and can turn his hand to all sorts of outdoor work."

]
13 October 1834
DARNELL
Joseph (x), bachelor, and Mary WORLAND (x) spinster, both of this parish.


Witnesses: John Pratt and Lydia Wiltshire.

24 December 1834
LONG
Robert (x), widower, and Elizabeth HEMMINGS (x), spinster, both of this parish.


Witnesses: William Rule (x) and Amey Christmas

25 July 1835
MALE
Richard (x), widower, and Susan HARVEY (x), widow, both of this parish.


Witnesses: Charles Pell and Ann Davies

30 September 1835
MORTLOCK
Henry, bachelore of Meldreth, and Jane ELLISTON, spinster of this parish, by licence.


Witnesses: James Auger? and Robert Elliston

14 October 1835
BREED
William (x), bachelor, and Sarah BULLEN (x), spinster, both of this parish.


Witnesses: Richard Harradine (x) and Eliza Bullen (x)

14 October 1835
COLLIN
John, bachelor, and Mary REED (x), spinster, both of this parish.


Witnesses: George Cooper and Meria Reed

2 February 1836
WILLMOT
James (x), widower, and Eliza RICHARDSON (x), spinster, both of this parish.


Witnesses: John Witmot and Mary Matthews (x)

24 February 1836
BEVAN
Robert Cooper Lee Esq., of East Barnet, Hertfordshire, and the Right Hon Agneta Elizabeth YORKE of this parish, by licence.


Witnesses: [4th Earl of] Hardwicke, Eliot Thomas Yorke, Grantham Yorke, Rich Lee Bevan, Francis Hart and Charles Stuart Savile.


[Agneta Elizabeth Yorke was the daughter of Vice-Admiral Sir Joseph Sydney Yorke and Elizabeth Weeke Rattray.]
1 June 1836
PETT
Aleph (x), bachelor, and Mary HEWITT (x), spinster, both of this parish.


Witnesses: Benjamin Male and Mary Ann Stanford

31 May 1837
JENEWAY
John, bachelor of Arrington, and Elizabeth WEBB, spinster of this parish, by licence.


Witnesses: Charles Crawley and Mary Ann Webb

8 June 1837
RICHARDS
Lancaster, widower of Orwell, and Ann JOHNSON (x), widow of this parish, by licence.


Witnesses: Elizabeth Bond and Thomas Bond

12 June 1837
CAMBRIDGE
Owen, bachelor, and Sarah BINKS, spinster, both of this parish.


Witnesses: John Butler and Sarah Harrison.


[

"...The old farmhouse (Wimpole Home Farm in 1856) was quite unworthy, only lath and plaster, but it had a great flagged kitchen; and in the dairy behind, Mrs Cambridge used to give us boys dishes of cream..."

- A.C.Yorke]
[1881 Census: Owen Cambridge b Bassingbourn aged 69 retired farmer, Sarah Cambridge b London Middlesex aged 70, living in 'Dirt House']
[From 1838, marriage entries usually included the age, occupation, father and father's occupation for both the bride and groom. There also seems to be an unstated assumption that, unless stated otherwise, those listed are 'of this parish'.]
25 January 1838
JENNEWAY

SPAXMAN
James (x), of Shingay, 20, labourer, bachelor, son of John, labourer.
Frances (x), 19, spinster, daughter of Jeremiah, labourer.
Witnesses: Joseph Jenneway (x) and Mary Reed (x)
3 December 1838
ARBER

PORTER
John, 44, farmer, bachelor, son of Philip, farmer.
Elizabeth (x), spinster, daughter of Bird, farmer.


Witnesses: Ebenezar Porter and John Chapman

5 November 1839
PRATT

HARRADINE
John (x), 22, bachelor, labourer, son of John, labourer.
Elizabeth (x), 21, spinster, labourer [?], daughter of Richard, labourer.


Witnesses: Hannah Pratt and John Chapman

29 February 1840
EVENETT

REED
James (x), of Duxford, 24, bachelor, labourer, son of James, labourer.
Mary (x), 22, spinster, servant, daughter of John, labourer.


Witnesses: Lydia Wiltshire and John Chapman

30 March 1840
GIFFIN

HORN
George, of Balsham, 21, bachelor, tailor, son of William, farmer.
Phillis, 21, spinster, governess, daughter of William (deceased).


Witnesses: Henry Giffin and Ann Horn

6 April 1840
CLARK

WATTS
Samuel (x), 25, bachelor, labourer, son of William, labourer.
Sarah, 23, spinster, daughter of labourer (deceased).


Witnesses: William Goats and Sarah Clark (x)

29 July 1840
JACKLIN

GOATS
John (x), of Whaddon, 20, bachelor, labourer, son of William, labourer.
Sarah (x), 21, spinster, daughter of Morris, labourer.


Witnesses William Jacklin (x) and Jane Slight (x)

28 November 1840
OSBORNE

WILTSHIRE
Samuel (x), 34, bachelor, labourer, son of John, labourer,
Lydia, 32, spinster, daughter of James (deceased), labourer.


Witnesses: Elizabeth Gadd and John Chapman

13 October 1841
BELL

MILLER
Daniel (x), of Whaddon, 23, bachelor, labourer, son of Thomas, labourer.
Eleanor (x), of Croydon, 22, spinster, servant, daughter of William, labourer.


Witnesses: John Chapman and Lydia Hills (x)

24 February 1842
COOPER

MULBERRY
Henry (x), 27, bachelor, labourer, son of Henry, labourer.
Caroline (x), 27, spinster, daughter of labourer (deceased).


Witnesses: Moses Mulberry (x) and Hannah Pratt

15 March 1842
WHITBY

BISHOP
James (x), 36, widower, labourer, son of John, labourer.
Elizabeth, 20, spinster, daughter of John, labourer.


Witnesses: Robert Pell (x) and Hannah Pratt

20 January 1843
PELL

RUMBOLD

Robert (x), 23, bachelor, labourer, son of William, labourer.
Eliza, 22, spinster, daughter of John, labourer.


Witnesses: Caroline Rumbold and John Chapman

23 December 1843
WARD

BULLEN
Joseph (x), of Orwell, 25, bachelor, labourer, son of John, labourer.
Lydia, 21, spinster, servant, daughter of William, labourer.


Witnesses: John Chapman and Mary Ann Bullen

29 March 1844
GOATES

PRATT
Thomas, 21, bachelor, labourer, son of James, labourer.
Hannah, 25, spinster, daughter of John, labourer.


Witnesses: John Chapman and Elizabeth Goats

31 January 1845
STAMFORD

CARTER
Thomas (x), 30, bachelor, labourer, son of William, labourer.
Sarah, 31, spinster, servant, father dead.


Witnesses: John Chapman and William Carter (x)

31 January 1845
CARRINGTON

STAMFORD
Henry, of Kingston, 38, widower, labourer, son of Henry, labourer.
Mary Ann, 29, spinster, daughter of William, labourer.


Witnesses: John Chapman and William Carter (x)

19 April 1845
PRIME

ROBINSON
James, 28, widower, hawker, son of James, labourer.
Jane, 27, spinster, servant, father deceased.


Witnesses: Edward Robinson and Esther Hayes

13 May 1845
SPACKSMAN

GOATES
David (x), 24, bachelor, labourer, son of Jeremiah, labourer.
Elizabeth, 24, spinster, daughter of James, labourer.


Witnesses: William Dockray and Jane Ingrey

1 January 1846
ELLIS

FULLER
William, of Little Abington, 61, widower, farmer, father deceased.
Lucy, 47, spinster, father deceased.


Witnesses: Flora E Yorke and Charles Smoothy

13 May 1846
REID

BULLEN
Joseph (x), 24, bachelor, labourer, son of Joseph, labourer.
Mary Ann, 20, spinster, daughter of William, labourer.


Witnesses: Jemima Bullen (x) and Thomas Reid (x)

24 June 1846
SAVAGE

TATE
John, 28, bachelor, gamekeeper, son of William, gamekeeper.
Caroline, of Orwell, 23, spinster, father deceased.


Witnesses: George Newell and Hannah Newell.

3 July 1846
SERJEANT

RUMBOLD
Philip (x), 26, bachelor, labourer, son of Philip, labourer.
Rebecca, 28, spinster, daughter of John, labourer.


Witnesses: James Bullen (x) and Caroline Rumbold

21 November 1846
OSBORNE

BULLEN
Philip (x), 32, bachelor, labourer, son of John, labourer.
Eliza (x), of Orwell, 32, spinster, daughter of Charles Watts, labourer, dead.


Witnesses: William Marshall (x) and Christina Osborn

9 April 1847
BULLEN

RUMBOLD
William, 25, bachelor, labourer, son of James, gardener.
Caroline, 23, spinster, servant, daughter of John, shepherd.


Witnesses: Jemima Bullen and Robert Hurst (x)

21 May 1847
THOROLD
[THIRRELL in banns]

BULLEN
Charles (x), of Croyland, Lincolnshire, 26, bachelor, labourer, son of John, shepherd.
Jemima, 21, spinster, servant, daughter of James, gardener.


Witnesses: John Lefever (x) and Elizabeth Bullen.

14 July 1847
RAYNER

GODDARD
William Whitbread, 39, bachelor, servant, son of John, shepherd.
Elizabeth (x), 28, spinster, servant, daughter of Robert, porter.


Witnesses: William Carter (x) and William Whetstone

17 July 1847
CHAPMAN

HORSLER
John, 22, bachelor, gardener, son of John, labourer.
Susannah, 22, spinster, servant, [daughter?] to George, labourer.


Witnesses: Sarah Woodrow and George Newell

13 October 1847
HEADS

PRIOR


[signs PRYOR]

Thomas (x), of Orwell, 27, bachelor, labourer, son of Joseph, labourer.
Elizabeth, 24, spinster, father dead.


Witnesses: Caroline Gadd and H.B.Ray

18 November 1847
REID

HALES
Stacey (x), 25, bachelor, labourer, father dead.
Mary, 24, spinster, daughter of William, labourer.


Witnesses: Susan Hales and Ann Harrison.

25 December 1847
GOATS

FABEN
Morris (x), 27, bachelor, labourer, son of Morris, labourer.
Martha (x), of Cambridge (banns state St Botolph's), 36, widow.


Witnesses: Susan Finkell and William Whetstone

25 December 1848
HURST

CAMPLING


[CAMPKIN in banns]

Robert (x), 24, bachelor, labourer, son of William, labourer.
Mary Ann, 26, spinster, servant, father dead.


Witnesses: Ann Reeves (x) and William Hurst (x)

21 April 1849
RUMBOLD

PRATT
John (x), 22, bachelor, labourer, son of John, labourer.
Charlotte, 20, spinster, servant, daughter of John, labourer.


Witnesses: James Pratt (x) and Mary Stanford.


[The year before this marriage, 18-year-old servant girl Charlotte gave birth to a son, James Pratt, who was baptised on the 2 April 1848. The father was understood to have been her employer, the 4th Earl of Hardwicke. It is said The Earl arranged the marriage with John Rumbold in return for a cottage on the estate and financial support for the child.]
[

"Charlotte... was a Pratt; and she was a picture. The handsomest woman that I ever remember to have seen. In harvest time to see her swinging along the road with a bundle of corn balanced on her head, both arms akimbo, was a study in colour, figure and poise".

- from "Wimpole As I Knew It" by A.C.Yorke]
23 July 1849
INGREY

DALLEY
James, 25, bachelor, labourer, son of Thomas, labourer.
Ann, 32, spinster, servant, father dead.
Witnesses: Elizabeth Ingrey (x) and William Bullen
27 July 1850
REID


[signs REED]



CONDER
James, bachelor, labourer, son of John, dead.
Ann (x), spinster, daughter of William, labourer.


Witnesses: Charles Whetstone and Jane Gadd (x)

15 October 1851
GREEN

WHITBY
Joseph (x), of Meldreth, 22, bachelor, labourer, son of Thomas, labourer.
Emily, 20, spinster, servant, daughter of Prime, brickmaker.


Witnesses: John Green and Daphny Whitby

28 October 1851
WHITBY

MOULE
William (x), 29, bachelor, labourer, son of John, labourer.
Sarah (x), of Orwell, 38, widow, daughter of John Fyson, wheelwright.


Witnesses: James Chapman and Emma Hagger

30 October 1851
GADD


(signs GOODD)



PILGRIM
David (21), bachelor, labourer, son of Thomas, labourer.
Mary Ann, 20, spinster, servant, daughter of Joseph, tailer.


Witnesses: James Gadd (x) and Maria Pilgrim

11 November 1851
MULBERY

BULLEN
Jonathan, 35, bachelor, labourer, son of Jonathan, labourer.
Elizabeth, 38, spinster, daughter of George, labourer.


Witnesses: James Bullen (x) and Caroline Bullen

29 November 1851
INGREY

PELL
Thomas (x), bachelor, labourer, son of Thomas, labourer.
Eliza, widow, daughter of John Rumball, labourer.


Witnesses: William Hurst (x) and Jane Mulbery (x)

22 April 1852
BRAY

COGGIN
James, of Walkern, 24, bachelor, builder, son of James, builder.
Sarah, 24, spinster, daughter of John, coachman.


Witnesses: Mary Cadham? and John Coggin.

17 October 1852
HARRADINE

LONG
Henry (x), of Royston, 23, bachelor, gardener, son of William, gardener.
Martha, 22, spinster, daughter of Robert, labourer.


Witnesses: James Deller and Ann Long (x)

6 November 1852
COURSE

BULLEN
William James, of Foulmire, bachelor, labourer, son of Charles, tailer.
Sarah, 19, spinster, daughter of William, labourer.


Witnesses: William Bullen and Sarah H----y?

20 November 1852
WORLAND

GOATS
Charles (x), of Meldreth, 23, bachelor, labourer, son of Robert, labourer.
Jane (x), 20, spinster, servant, daughter of John, gardener.


Witnesses: Edward Goats and Jane Whitby.

24 January 1853
WALKER

ELLISTON
Robert Lawrence, of Teversham, bachelor, farmer, son of William, farmer.
Elizabeth Ann, spinster, daughter of Robert, farmer.


Witnesses: Elizabeth Meyer, Benjamin Elliston, Georgiana Elliston, and Philip George Elliston.


[See the "Wimpole Chronicles" for 18th September 1852 - 'Love and Pistols'.]
24 September 1853
LEADER

PELL
James (x), bachelor, labourer, son of William, labourer.
Mary (x), 19, spinster, daughter of William, labourer.


Witnesses: Elizabeth Goats (x) and William Pell (x)

7 October 1854
MATTHEWS

MULBERRY
William (x), of Arrington, 25, bachelor, labourer, son of William, labourer.
Jane (x), 21, spinster, daughter of James, labourer.


Witnesses: David Mulberry (x) and Sarah Cowell.

14 November 1854
WAGSTAFF

BULLEN
William (x), 22, bachelor, labourer, no father.
Emma (x), 22, spinster, daughter of James, labourer.


Witnesses: Stephen How and Kitty Bullen

11 July 1855
GADD

LANGHAM
James (x), 24, bachelor, labourer, son of John, labourer.
Eliza (x), spinster, daughter of Joseph, labourer.


Witnesses: James Reed and William Whetstone

16 August 1855
WILSON

ABRAHAMS
George, of Paddington Middlesex, widower, house agent.
Elizabeth, spinster, daughter of Samuel, farmer.


Witnesses: --? Thurtell, J Harrison, Eliza Dalley and Jane Davies

15 October 1855
DELLER

LONG
James, 21, bachelor, labourer, son of George, labourer.
Ann (x), 19, spinster, daughter of Robert, labourer.


Witnesses: William Whetstone and Rebecca Wilshire (x)

25 November 1855
BULLEN

COLLINS
William, bachelor, labourer, son of William, labourer.
Ann (x), of Orwell, spinster, daughter of William (deceased), labourer.


Witnesses: John Britt? and Maria Bullen

12 April 1856
DARLOW

SPAXMAN


(Signs SPACKSMAN)

Charles, bachelor, labourer, son of William (deceased), labourer.
Rebecca, spinster, daughter of Jeremiah, labourer.


Witnesses: James Wilmot and Caroline Gadd

25 April 1857
HURST

GADD
Robert (x), widower, labourer, son of William, labourer.
Caroline, spinster, daughter of William, labourer.


Witnesses: Elizabeth Gadd and James Wilmot

13 May 1857
MALE

WHITBY
Job, widower, labourer, son of Richard, labourer.
Daphne, spinster, daughter of Prime, labourer.


Witnesses: George Smith and Jane Whitby

29 June 1857
BARLOW

INGRAY
Barnett, of Orwell, bachelor, labourer, son of Frederic, labourer.
Elizabeth (x), spinster, servant, daughter of James, labourer.


Witnesses: Susan A Yorke and Flora C Yorke

15 December 1857
HAMBRO

YORKE
Charles Joseph Theophilus, bachelor, gentleman of Wimpole Rectory, son of Charles, Baron.
Susan Amelia, 19, spinster, of Wimpole Rectory, daughter of Henry Reginald, clergyman.


Witnesses: Earl of Hardwick, Lord Royston, S Hardwicke [Susan A Yorke] and Baron Hambro

16 January 1858
SMITH

HARRADINE
Charles (x), bachelor, labourer, son of James, labourer.
Martha (x), spinster.


Witnesses: Alfred Watts (x) and Emma Bailey (x)

22 January 1858
PRATT

RULE
David, 20, bachelor, labourer, son of John, labourer.
Mary Ann, 19, spinster, daughter of William, labourer.


Witnesses: Emma Rule (x) and William Whetstone

29 October 1858
WATTS

BAILEY
Alfred (x), bachelor, labourer, son of Charles, labourer.
Emma, of Kingston, spinster, daughter of Samuel, gamekeeper.


Witnesses: Elias Watts and Sarah Cooper

12 November 1858
RULE

BARLOW
David, bachelor, labourer, son of James, labourer.
Jane, of Orwell, spinster, servant, daughter of Frederick, labourer.


Witnesses: David Pratt and Emma Rule

4 December 1858
JACKLIN

WHITBY
Stephen, of Whaddon, bachelor, labourer, son of John, labourer.
Jane, spinster, servant, daughter of John, labourer.


Witnesses: Daniel Jacklin and Elizabeth Wright

13 January 1859
OSBORN

CLARKE
Jonas, of Arrington, bachelor, labourer, son of James, labourer.
Eliza, spinster, servant, daughter of William, labourer.


Witnesses: Samuel Collis and Hannah Osborn

23 February 1859
OLIVER

DALLEY
Henry, of Orwell, bachelor, butcher of Orwell, son of Silverton, butcher.
Eliza, spinster, servant, daughter of John, servant.


Witnesses: Philip Sydney Yorke, Flora C Yorke, Susan Hambro, John Harrison, Jane Davies

.
2 July 1859
SKINNER

GARNER
James (x), bachelor, labourer, son of Samuel, labourer.
Ann (x), spinster, servant, daughter of James, labourer.


Witnesses: John Goats and Susanna Pett

27 July 1859
WAYMENT

BULLEN
Charles (x), bachelor, labourer, son of John, labourer.
Rhoda, spinster, daughter of James, gardener.


Witnesses: George Bullen (x) and Kitty Bullen

13 December 1859
CURRIE

YORKE
Henry William, bachelor, gentleman, son of Henry, gentleman.
Flora Caroline, spinster, daughter of Henry Reginald, clergyman.


Witnesses: Henry R Yorke, Henry Currie, [Viscount] Royston, Susan A Hambro and Philip Sydney Yorke

5 June 1860
ADEANE


YORKE
Henry John of Babraham, bachelor, MP for Cambridgeshire, son of Henry John, deceased.
Elizabeth Philippa, spinster, daughter of Charles Philip Yorke, [4th] Earl of Hardwicke, peer of the realm.


Witnesses: [Earl of] Hardwicke, S[usan A Yorke, Countess of] Hardwicke , Eliot Thomas Yorke, Stanley of Alderley, M Normanby [= Maria Liddell, Susan's sister], Normanby [her husband = Constantine Henry, 1st Marquis of Normanby] and W Whewell.


[Lady Elizabeth Philippa Yorke was the first daughter of Charles Philip Yorke, 4th Earl of Hardwicke and Susan Liddell.] [Henry John Adeane died in 1870 at the age of 36. In 1877 Elizabeth married again to Michael Biddulph, 1st Baron Biddulph.]
17 October 1860
CARTER

GADD
William (x), widower, labourer, son of John, labourer.
Elizabeth, spinster, daughter of William, labourer.


Witnesses: William Whetstone and Emily Rule (x)

2 November 1860
PRATT

RULE
David (x), bachelor, labourer, son of John, labourer.
Emma, 20, spinster, daughter of James, labourer.


Witnesses: William Whetstone and Emily Rule (x)

29 April 1862
JOYCE

LAMB
William of Renhold, Bedfordshire, bachelor, farmer, son of Joseph, farmer.
Mercy, spinster, daughter of James, farmer.


Witnesses: David Lamb and Ellen Joyce

13 May 1862
BIRD

GOATS
Herbert (x) of Wendy, bachelor, labourer, son of Joseph, labourer (deceased).
Sarah, 19, spinster, daughter of John, labourer (deceased).


Witnesses: William Goates and Eliza Ann Whetstone

6 November 1862
BULLEN

OSBORN
Benjamin, bachelor, labourer, son of Edward, labourer.
Hannah, spinster, daughter of James, wheelwright.


Witnesses: Jonas Osborn and Sarah Osborn

13 May 1863
GOATS

LONG
John, bachelor, labourer, son of Morris, labourer.
Harriet, 19, spinster, daughter of Robert, labourer.


Witnesses: William Harding and Emma Jarman

14 October 1863
CLARK

RULE
Samuel (x), bachelor, labourer, son of William, labourer.
Emily (x), spinster, daughter of John, labourer.


Witnesses: William Whetstone and Sarah Ann Stanford

The 1883 Transcription ends here





St Andrew's Parish Church.


A living church for the Parish of Wimpole, located within the National Trust's Wimpole Estate.
The Church is managed and maintained by the Parochial Church Council