A local history and genealogy site for Wimpole, a village and parish in South Cambridgeshire.
Curated by Steve Odell.



< Harry Ingrey Home Page War Memorial David Matthews >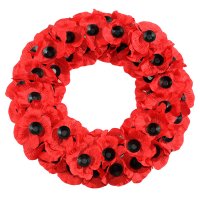 In memory of

William Ingrey

Sergeant 5126. 3rd Battalion, Bedfordshire Regiment

Died: Saturday 5 June 1915, aged 38

[Wimpole]
Lest We Forget


Born: c1877 in Wimpole, Cambridgeshire.
Enlisted: c1895 Royston, Hertfordshire (as career solidier).
Died: Saturday 5 June 1915, aged 38.
How died: [injuries or illness while] serving in Felixstowe.
Theatre of War: Home.

Military Background



William Ingrey was awarded the"Long Service and Good Conduct Medal" given to Regular Force non-commissioned officers and men who had completed eighteen years of irreproachable service. This indicates that William Ingrey had been an enlisted soldier since before 1897. His Regiment served in India and Ireland during that time.



In the 1911 Census, William Ingrey was recorded as living in the Maida Barracks, Stanhope Lines, Aldershot. William was shown as being in the Infantry (1st Bedfordshire Regiment) and listed as married.



The 3rd (Reserve) Battalion was formed August 1914 in Bedford. Within a few days of the declaration of war it moved to Felixstowe for duty with the Harwich Garrison. A training unit, it remained in the UK throughout the war.


Family Background


William was the son of Edward and Mary Anne [Theobalds] Ingrey [who died in 1884 when William was 7] who lived in the French House on Ermine Way, north of Arrington. In the 1891 Census, 14-year-old William was an Agricultural Labourer.



[CWGC tells us that at his death William was married to Beatrice May Ingrey who was living at 'Belle Vue', West Parade, Dunstable (although I have been unable to track down the marriage or her maiden name). William's military pension record indicates that they had at least one son named William Edward Ingrey who was born on the 28th February 1913 (although I have also been unable to track down the record of birth). The pre-1915 paper trail seems curiously elusive, and I have a theory, as yet untested, that Beatrice and the marriage and the birth were all Irish). Beatrice was named as widow on the army pension settlement and the local Dunstable Register of Electors confirms she lived at 'Belle Vue', 47 West Parade, [presumably with young William Edward] until at least 1938 when the records cease. An adult William Edward Ingrey was also listed as living at the same address from 1934.]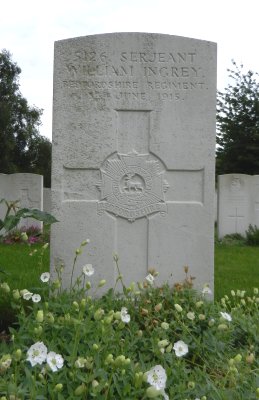 Grave: J.12.
Cemetery: Felixstowe New Cemetery, Suffolk, United Kingdom.


"Gone From Us
But Leaving Memories
Death Can Never Take Away"

[Inscription Requested by Mrs B M Ingrey]


There are 64 Commonwealth burials of the 1914-18 war, including 1 unidentified Royal Navy sailor who was buried on 26th March 1917, in B. 71. There are a further 44 burials of the 1939-45 war including 9 unidentified seamen of the Merchant Navy. There are also 8 foreign national war burials including 1 unidentified German airman, and 3 non-war service burials.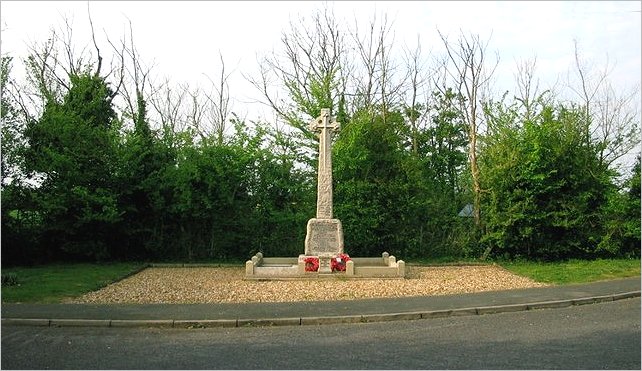 The Wimpole and Arrington War Memorial pictured in 2011
© Photographed by Lorraine and Keith Bowdler

The servicemen and women are listed under the Parishes of Arrington or Wimpole
as shown on the Cambridgeshire County War Memorial in Ely Cathedral.

Researched by Steve Odell.
The War Memorial Project would welcome any further information, photographs or memories of
William Ingrey for this page.
Please contact us via the contact e-mail address below.