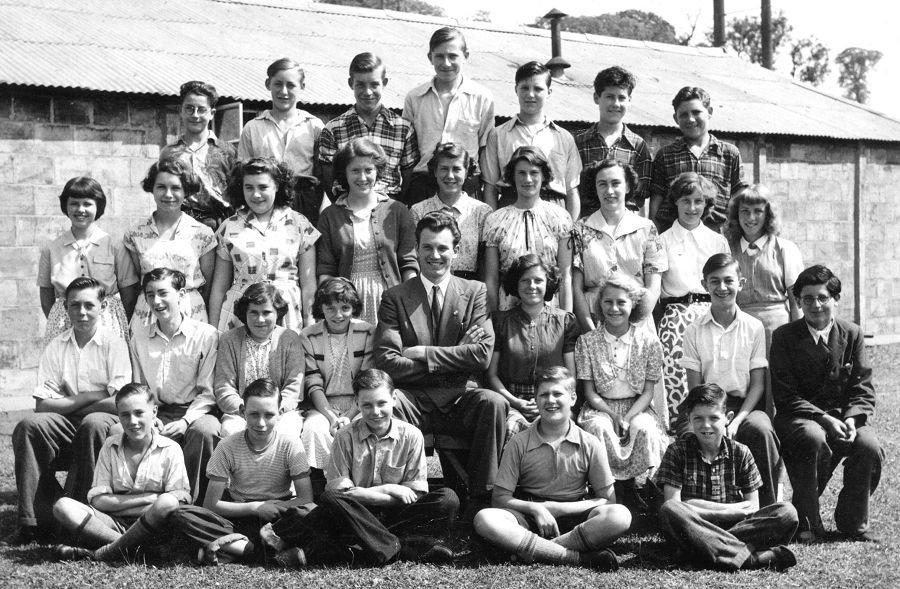 Wimpole Park School (Seniors) 10 July 1953
Wimpole Park School (Seniors)
10 July 1953
Photograph kindly loaned by Irene Bruce (née Lowe).
Names were recorded on the photograph in 1953.
The image was taken in front of the school classroom hut in Wimpole Park.
Submitted Names:
Back row

(standing, left to right)

: Robert Arnold, Colin Christy, Robert Neaves,
Basil Davenport, Arthur Brown, Tony Morris, and Barry Charter.
Third row

(standing, left to right)

: Ruth Upton, Rose-Mary Bullen, Josephine Arnold, Marjorie Chapman, Colleen Starling, Valerie Lewis, Margaret Green,
Christine Arnold, and Irene Lowe.
Second row

(sitting on chairs, left to right)

: Kenneth Jude, Brian Osbourn, Rita Clarke, Maureen Dance, Mr Mitchell (teacher), Sylvia Goffin, Ann Cornett, Richard Presland, Stanley Smythe.
Front row

(sitting on grass, left to right)

: George Reynolds, Frank Thorpe, William Orchard, John Lewis, Henry Booth.

Please contact the website if you have any other Wimpole Park photographs of the school or pupils. We are also seeking the missing names. All help would be appreciated.