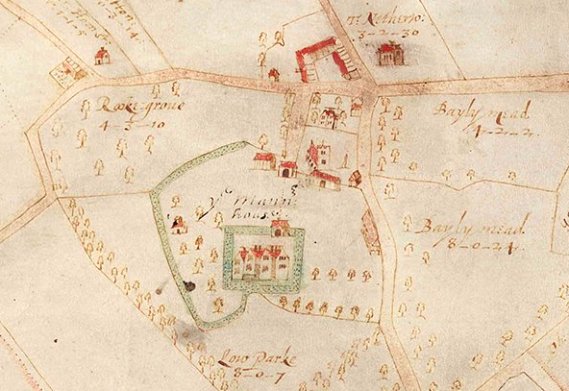 A 1638 map of Wimpole by Benjamin Hare, showing a four-gabled medieval manor house
surrounded by a moat. The church can be seen a little above the house.


The Owners of Wimpole Hall
A Quick Guide to 550 Years of History

Owners, Debts, and People of Interest.
A local history and genealogy page for the Parish of Wimpole.


Wimpole has been continuously occupied for at least 2000 years with evidence from Roman, Anglo Saxon and medieval times. The estate has been owned by a number of different families. Our starting point here is the 1638 map above which shows Wimpole as a medieval four-gabled manor house surrounded by a moat and deer park.

The Chicheley Family
(Owners 1428 to 1686)


The Chicheley (Checheley, Chichele) family dominated Wimpole for 250 years from 1428 when Henry Chichele, Archbishop of Canterbury and founder of All Saints College, Oxford acquired the lease of the principal Wimpole Manors.

In 1436 the archbishop settled Wimpole on his great nephew, Henry Chicheley. His descendants purchased further property in the area so by the early seventeenth century the estate included four of Wimpole's six manors and all three manors in the neighbouring parish of Wendy.

Thomas Chicheley (later MP for Cambridgeshire and a Royalist) inherited Wimpole in 1616 when he was two years old. Around 1640 the medieval manor house was demolished and Chicheley built Wimpole Hall (below) over 20 years between periods of fighting Parliamentarians in the Civil War. The new house was surrounded by a formal garden and an architectural landscape.



Wimpole Hall as built c1640-1660


Debts forced Chicheley to sell Wimpole in 1686 to Sir John Cutler, although his body was returned in 1699 to be interred in the family vault in Wimpole Parish Church.


Henry Chichele [1364-1443] Archbishop of Canterbury.
Sir Thomas Chicheley [1578-1616], MP for Huntingdon then Cambridgeshire, knighted 1607, father of the Sir Thomas Chicheley who built Wimpole Hall. Interred in Wimpole Parish Church. His ornate altar tomb can be seen in the Chicheley Chapel.
Sir Thomas Chicheley [1614-1699], MP for Cambridgeshire then Cambridge, son of Thomas above, Royalist, knighted c1670. Built Wimpole Hall. Sold Wimpole Hall. Interred in Wimpole Parish Church.
Sir Henry Chicheley [c1616-1692], son of Thomas [1578-1616] above, knighted c1644, imprisoned in the Tower of London for plot against Parliament, paroled to Virginia in America, twice Lieutenant Governor of Virginia.
Sir John Chicheley (1640-1691), son of Henry above, knighted 1665, Rear Admiral of the Red, MP for Newton, Lord Commissioner of the Admiralty.


The Chicheley Family in the Wimpole Parish Registers.

Sir John Cutler, and
Charles Robartes, 2nd Earl of Radnor.
(Owners 1686 to 1710)

City merchant Sir John Cutler purchased Wimpole in 1684 and was succeeded on his death in 1693 by his son-in-law Charles Robartes, second Earl of Radnor. Lord Radnor laid out extensive and elaborate formal gardens around the house. The park was extended with avenues and fish-ponds.

In 1710 Robartes sold Wimpole to John Holles, the 1st Duke of Newcastle.


John Holles, 1st Duke of Newcastle.


Lady Henrietta Cavendish-Holles.


(Owners 1710 to 1713)

John Holles, 1st Duke of Newcastle married Lady Margaret Cavendish and they had one child and heir, Lady Henrietta Cavendish-Holles. In 1710 the Duke purchased Wimpole from Charles Robartes, only to fall off his horse the following year, dying from his injuries.

Henrietta inherited Wimpole in 1711. Two years later, and against the express wishes of her mother, she married Edward Harley, 2nd Earl of Oxford, in the drawing room at Wimpole Hall.



Lady Henrietta Cavendish-Holles (1694–1755), "...they say the girl is handsome, and has good sense, but red hair." Nottingham History

Edward Harley, 2nd Earl of Oxford.
(Owner 1713 to 1740)

Harley gained Wimpole through his marriage to Lady Henrietta Cavendish-Holles in 1713 and set about enlarging the Chicheley's house and landscaped the park, including the planting of the dramatic South Avenue. Wimpole became their main residence.

The Harley property in London was centred on Cavendish Square and family properties and titles are remembered in London street names such as Harley Street, Oxford Street, Wigmore Street, Wimpole Street, Holles Street, Henrietta Place and Cavendish Square.

An obsessive collector and great bibliophile, Lord Harley made his mansion at Wimpole one of the main centres of art and learning of the early Georgian age, and his Wimpole library expanded to house his vast collection of books. By the end of his life Harley had collected 50,000 printed books, 41,000 prints and 350,000 pamphlets.

Harley amassed huge debts and he was forced to sell the estate in 1740. The manuscript collection was acquired for the nation in 1753 and formed the foundation of the British Library.


Edward Harley, 2nd Earl of Oxford and Mortimer, MP (1699-1755)

The Yorke Family, the five Earls of Hardwicke
(Owners 1740 to 1894)
Lord Hardwicke, the first Earl of Hardwicke and Lord Chancellor, bought Wimpole in 1740. He rebuilt the north and south fronts of the Chicheley building in red brick with portland stone dressings (below). Harley's cabinet rooms were made into one ground floor gallery for Lord Hardwicke's famous picture collection. The formal landscape was replaced with sweeping lawns and a pleasure garden.



Wimpole Hall refaced elevations c1760


The 2nd Earl of Hardwicke was more interested in books and manuscripts than political life so Wimpole once again become the centre of a great book and manuscript collection. It was the 2nd Earl of Hardwicke who, in the 1760s, commissioned Lancelot 'Capability' Brown to landscape the North park including the building of a gothic tower, still standing today; shallow belts of trees and serpentine lakes crossed by a 'Chinese' bridge.

The 3rd Earl of Hardwicke was a politician with an interest in architecture and agricultural improvement. In 1790, the Earl commissioned Sir John Soane, celebrated architect, to make dramatic alterations to the interior of the house including the stunning Yellow Drawing Room, Bath House and the Book Room, and to design and build a model farm.

Vice-Admiral Charles Yorke ('Old Blowhard') unexpectedly became the 4th Earl in 1834. With rigorous efficiency he regulated the estate finances. Changes to the house and gardens included Kendall's new servant wing, giant conservatory and the new stable block. He even founded an estate fire brigade. He entertained Queen Victoria and Prince Albert at Wimpole for two days in 1843.

The 5th Earl of Hardwicke was an inveterate gambler, in the social circle of the Prince of Wales and was known as 'Champagne Charlie'. He amassed huge debts with the Agar-Robartes Bank, and he was forced to put the Wimpole Estate up for sale by auction in 1891.

Bidding in the auction failed to reach it's reserve price, so Lord Robartes eventually took over the house and estate in settlement of the 5th Earl's debts in his role of Chairman of Agar-Robartes Bank.

Philip Yorke, 1st Earl of Hardwicke (1690-1764), MP, Attorney-General, Lord Chief Justice, Lord Chancellor.
Philip Yorke, 2nd Earl of Hardwicke (1720-1790), MP, English Politician, Lord Lieutenant of Cambridgeshire. Interred in Wimpole Parish Church.
Philip Yorke, 3rd Earl of Hardwicke (1757-1834), MP, British Politician, Privy Councillor, Knight of the Garter, Lord Lieutenant of Ireland. Interred in an altar tomb in Wimpole Parish Church.
Charles Philip Yorke, 4th Earl of Hardwicke (1799-1873), MP, British Naval Admiral, Conservative politician, Postmaster General, Lord Privy Seal, Privy Councillor. Interred in the Hardwicke Vault in Wimpole Parish Church.
Charles Philip Yorke, 5th Earl of Hardwicke, MP, British Aristocrat, Conservative Politician, Comptroller of the Royal Household, Privy Councillor, Dandy and Bankrupt. (1836-1897)


The Yorke Family in the Wimpole Parish Registers.

The Viscounts Clifden
(Owners 1894 to 1942)
Thus, after 200 years, Wimpole was reunited with the descendents of Charles Robartes, 2nd Earl of Radnor.

Thomas Charles Agar-Robartes became the 6th Viscount Clifden in 1899, and moved to the Clifden's principal seat at Lanhydrock in Cornwall. He settled Wimpole on his second son Gerald in 1906. The maintenance of both the family seat at Lanhydrock and Wimpole proved too expensive, and Gerald Agar-Robartes (who became 7th Viscount Clifton in 1930) felt obliged to withdraw back to Lanhydrock.

For twenty years Wimpole was then used only occasionally by members of the family, usually for game shooting, horse racing at Newmarket or cricket in front of the house. Wimpole Hall, increasingly dilapidated and stripped of many of its contents, was let to a series of tenants, the last being Captain and Mrs Bambridge.

Thomas Charles Agar-Robartes, Lord Robartes, the 6th Viscount Clifden MP (1844-1930)
The Right Hon Thomas Charles Reginald Agar-Robartes MP, first son and heir, killed in action during WW1, commemorated on the Wimpole and Arrington War Memorial and on stained glass windows in Wimpole Parish Church.
Francis Gerald Agar-Robartes, the 7th Viscount Clifden (1883- 1966)

Captain and Mrs George Bambridge
(Owners 1942 to 1976)
Captain and Mrs George Bambridge first rented Wimpole from the Clifdens in 1937 and had purchased it by 1942. The house had been largely emptied of contents, so they set out buying pictures and furniture to re-fill the house.

During the war the household moved into the basements. The house itself was not requisitioned by the War Office due to lack of mains electricity and primitive drainage and water supply, although a US Army Hospital was set up on the estate near the Arrington gates.

Captain Bambridge died in 1943 as a result of a chill caught whilst out shooting on the estate. Elsie Bambridge was the only surviving child of Rudyard Kipling and used her inheritance and the substantial royalties from his books to refurbish and refurnish Wimpole for the next thirty years. In 1953 she had Kendall's East and West wings taken down.

Mrs Bambridge bequeathed the estate and her royalties to the National Trust on her death aged 80 in 1976.



So having noted that the wonderful Elsie Bambridge and her father's royalties from "The Jungle Book" etc renovated, refurnished and possibly even saved Wimpole Hall from being lost, the estate's future appears secure under the stewardship of the National Trust. The house and grounds are open to the public on most days.

Wimpole Hall and Estate - National Trust