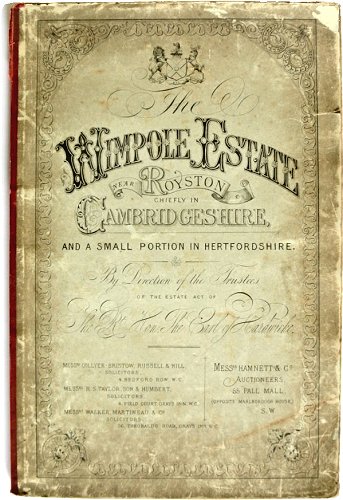 Wimpole Hall Sale, August 1891


Auction Prospectus
Charles Yorke, the fifth Earl of Hardwicke, who inherited Wimpole in 1873, led such an extravagant lifestyle that within fifteen years he had amassed such huge debts with the Agar-Robartes Bank that they forced the sale of the estate. However, the estate did not reach its reserve price in auction, and was taken over, in settlement of the debts, by the 2nd Lord Robartes in his capacity as Chairman of Agar-Robartes Bank.
"Particulars, plans, illustrations and conditions of sale, of the magnificent freehold residential, sporting & manorial domain, known as Wimpole... Chiefly in Cambridgeshire (in the parishes of Abington Piggots, Arrington, Bourn, Great Eversden, Little Eversden, Kingston, Kneesworth, Litlington, Meldreth, Guilden Morden, Steeple Morden, Orwell, Shingay, Whaddon and Wimpole); and a small portion in Hertfordshire (in the parish of Ashwell).
"Wimpole Hall is one of the finest and best known mansions of England, and stands in a grandly timbered deer park of nearly 300 acres, ... Appurtenant to the estate are the manors or reputed manors of Steeple Morden, Pritchards, Shingay and Kingston, and also the advowson of the Rectory of Wimpole.
"The estate,... extends in all to about 11,111 acres... comprises the whole of the villages of Whaddon and Arrington, and parts of the villages of New Wimpole, Kingston, Great Eversden, Steeple Morden, Guilden Morden and Litlington.
"Messrs. Hamnett & Co. are honoured with instructions from the Trustees of the Earl of Hardwicke's Estate Act, to offer this grand estate by public auction, at the mart, Tokenhouse Yard, Bank of England, E.C., on Wednesday the 5th day of August, 1891, at two o'clock in the afternoon precisely. First as a whole, and if not so sold, then in numerous lots. (Unless and acceptable offer be previously made privately.)
"The mansion and estate may be viewed by special permission, for which and copies of these particulars, application must be made to Messrs. Collyer-Bristow, Russell & Hill, Solicitors, 4, Bedford Row, W.C.; Messrs. R.S. Taylor, Son & Humbert, Solicitors, 4, Field Court, Gray's Inn, W.C.; or to Messrs. Hamnett & Co., Auctioneers, 55, Pall Mall (opposite Marlborough House), S.W."
The images below are from the auction prospectus.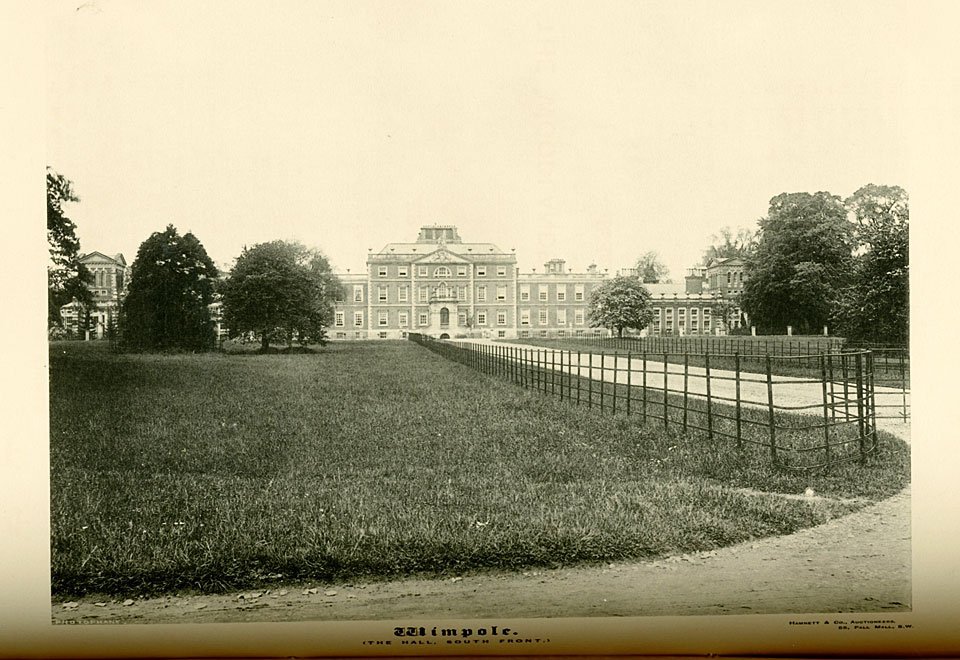 Wimpole 1891
The Hall, South Front


[Note Kendell's Wings and Italianate Towers, all demolished in 1953.]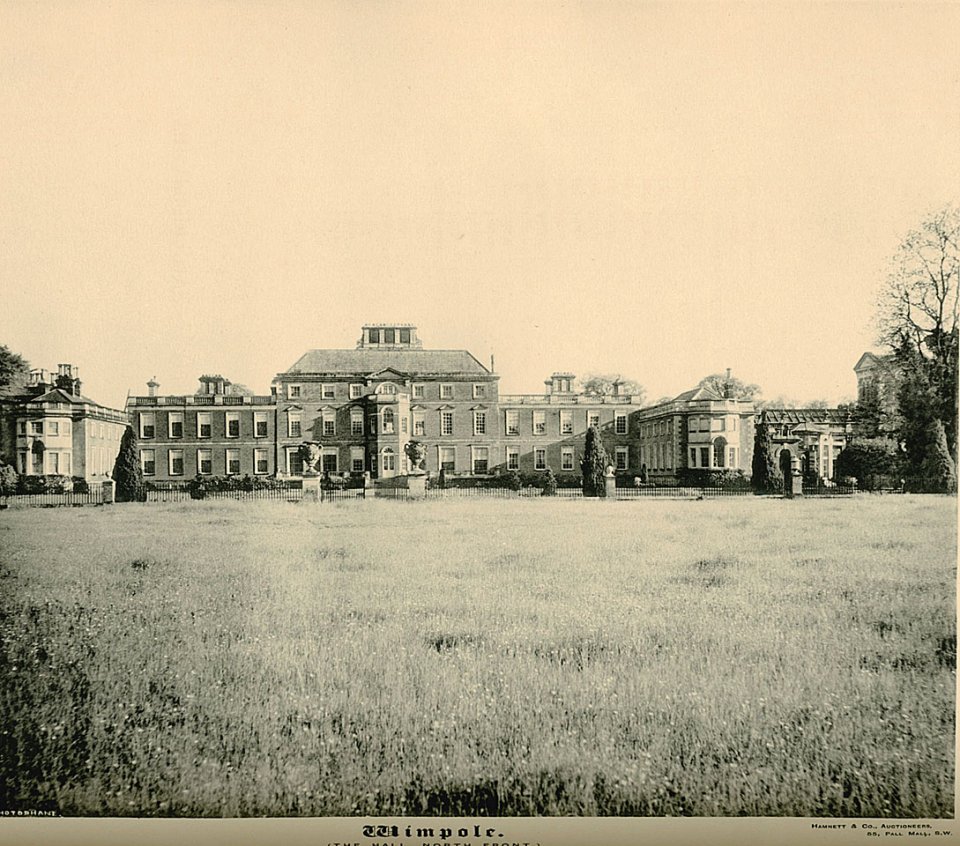 Wimpole 1891
The Hall, North Front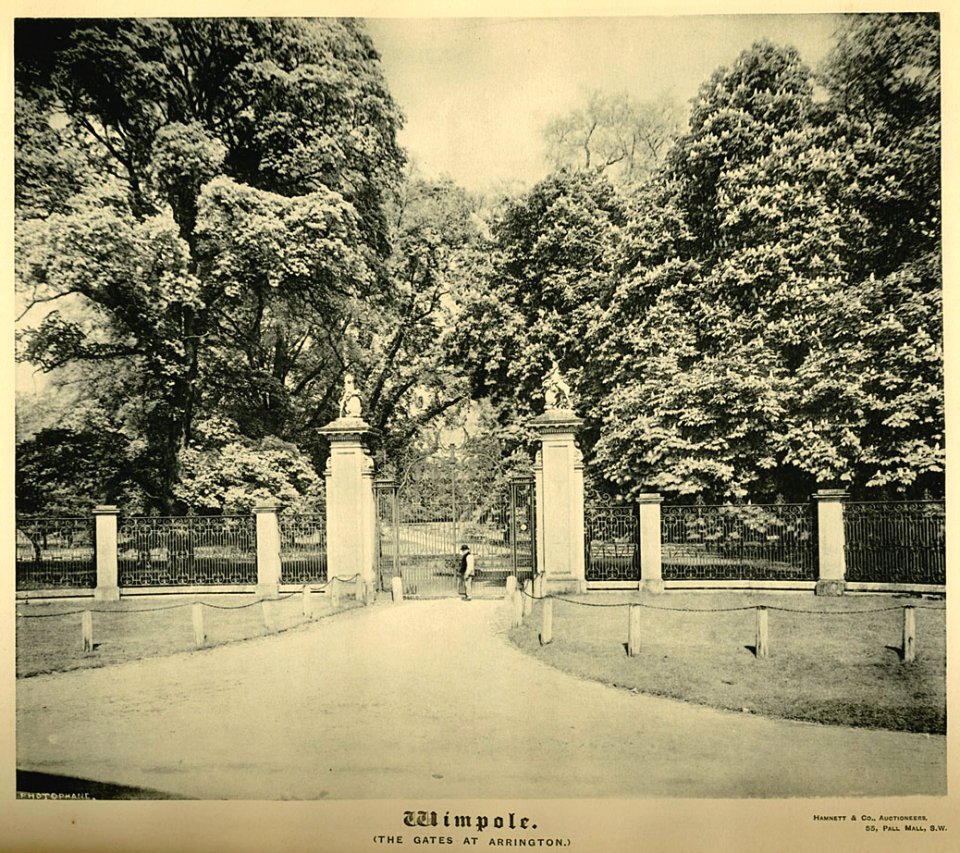 Wimpole 1891
The Gates at Arrington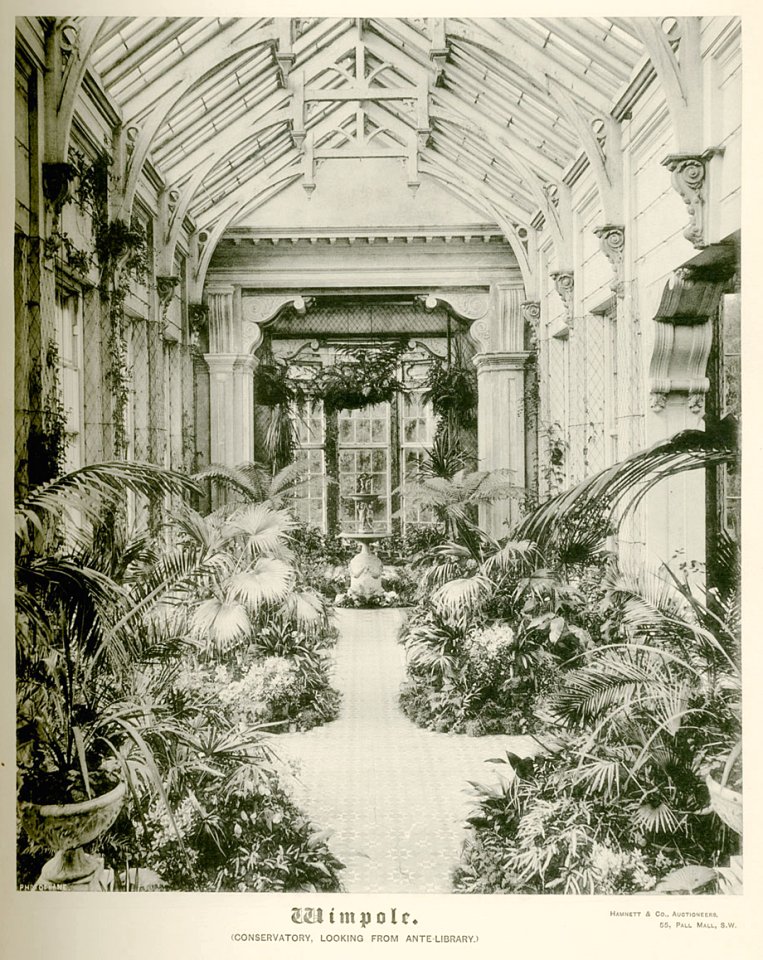 Wimpole 1891
Conservatory Looking from Ante-Library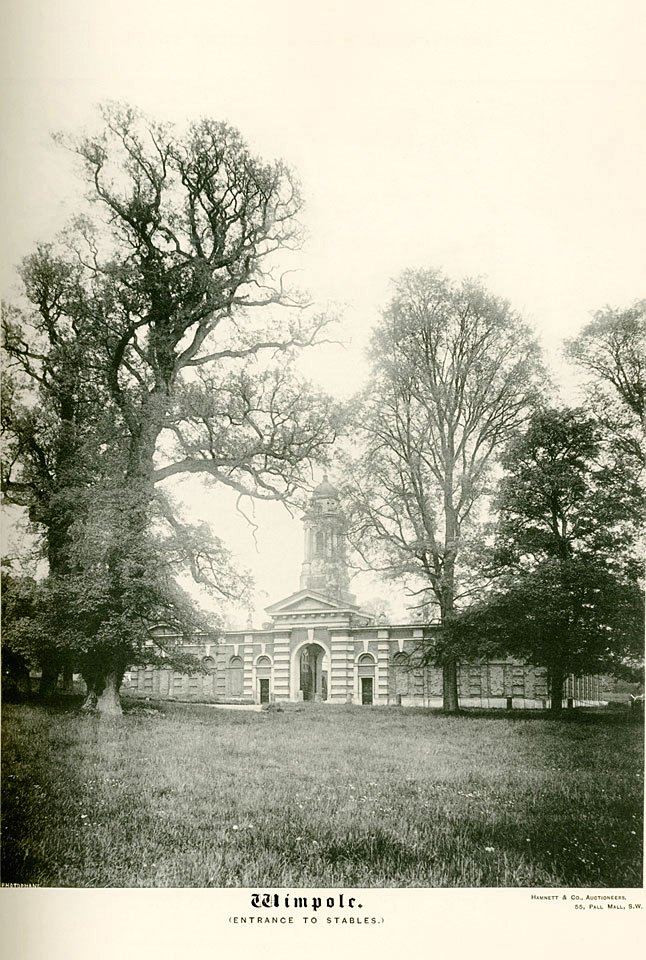 Wimpole 1891
Entrance to Stables


Home Page
Owners of Wimpole Hall
Steve's Postcards
Parish Registers