A local history and genealogy site for Wimpole, a village and parish in South Cambridgeshire.
Curated by Steve Odell.




Home Page
Churchyard Register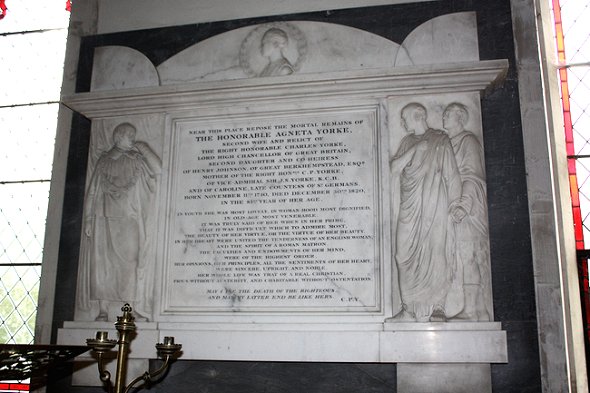 Memorial Inscription

The Honorable Agneta Yorke
(1740-1820)
Location: Wall Memorial in Nave of the Church (South wall).
"Near this place repose the mortal remains of
The Honorable Agneta Yorke,
Second wife and relict of
The Right Honorable Charles Yorke,
Lord High Chancellor of Great Britain,
Second daughter and co-heiress
of Henry Johnson, of Great Berkhempstead, Esq.
Mother of the Right Hon C.P.Yorke.
Of Vice Admiral Sir J. S. Yorke, K.C.B.
And of Caroline, late Countess of St Germans.
Born November 11th 1740, died December 30th 1820,
in the 81st year of her age.
"In youth she was most lovely, in woman-hood most dignified,
In old age most venerable.
It was truly said of her when in her prime,
that it was difficult which to admire most,
The beauty of her virtue, or the virtue of her beauty.
In her breast were united the tenderness of an Englishwoman
and the spirit of a roman matron.
The faculties and endowments of her kind,
were of the highest order.
Her opinions, her principles, all the sentiments of her heart,
were sincere, upright and noble.
Her whole life was that of a real christian.
Pious without austerity, and charitible without ostentation."
"May I die the death of the righteous
And may my latter end be like hers."
C.P.Y.
Notes:
(a) 'relict' = archaic word meaning 'widow'.
(b) Father's name on memorial spelt Johnson.
Agneta Johnston † died 30 Dec 1820, interred 13 Jan 1821.


Memorial Inscription



Charles Philip Yorke
(1764-1834)


Also his wife Harriet Manningham (1763-1854).




Location: Wall Memorial in Chancel of the Church.



"Near this place are interred the remains
of the Right Hon CHARLES PHILIP YORKE
One of His Majesty's most Honorable Privy Council
And one of the Tellers of the Receipt of His Majesty's Exchequer.
He was second son of the Hon Charles Yorke
Lord High Chancellor of Great Britain
By his second wife Agneta Johnson.
Born March 12 1764, married July 1st 1790 to Harriet
Eldest Daughter of Charles Manningham of Thorpe [Com Surry?], Esq.,
By whom he left no issue
And died beloved and lamented March 13th 1834.
He was educated at Harrow School, and St John's College, Cambridge,
Was called to the Bar in 1789 and was soon after appointed Chief Justice
of the Isle of Ely.
He sat in Parliament from 1790 to 1818,
During twenty successive years of which period he represented
the County of Cambridge,
Where his services are still remembered with gratitude and affection.
He held the offices of Secretary at War, Secretary of State for the Home Department,
And First Lord of the Admiralty under His Majesty George the Third,
With unceasing attention to the Interests of his Country
And the acknowledged approbation and esteem
Of his Sovereign.
During his administration of the latter of these high offices
That great national work for the breakwater in Plymouth Sound
Was decided upon and undertaken.
A fragment of marble taken from its surface
Has furnished this monument to his honored memory."
"ET NOS ALIQUOD"

"In the vault beneath rest the remains of
HARRIET
widow of the above right Honorable Charles P Yorke
Born June 21st 1763, married July 1st 1790
Died May 10th 1854."

Note:
(a) Second wife Agneta's surname on memorial spelt Johnson.
Charles Philip Yorke † died 13 March 1834, body interred 20 March 1834
in the Hardwicke Family Vault.
Harriet Yorke Manningham † died 10 May1854, body interred 16 May 1854
in the Hardwick Family Vault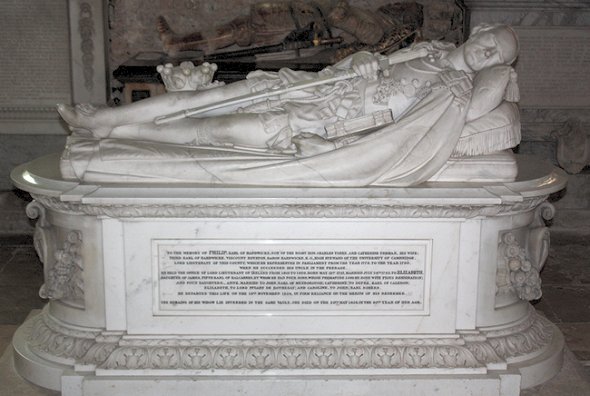 Memorial Inscription

Philip Yorke, 3rd Earl of Hardwicke
(1757-1834)
Also Elizabeth Scot Lindsay (1763-1858) and three sons.


Location: Chicheley Chapel (central position).




[FRONT]
"To the memory of PHILIP, Earl of Hardwicke, son of the Right Hon. Charles Yorke,
and Catherine Freman, his wife;
Third Earl of Hardwicke, Viscount Royston, Baron Hardwicke K.C., High Steward
of the University of Cambridge;
Lord Lieutenant of this County which he represented in Parliament
from the year 1778, to the year 1790
when he succeeded his Uncle in the Peerage.
He held the office of Lord Lieutenant of Ireland from 1801 to 1806. Born May 31st 1757, married July 24th 1782 to ELIZABETH,
Daughter of James, fifth Earl of Balcarres, by whom he had four sons,
whose premature loss he bore with pious resignation;
And four daughters - Anne, married to John, Earl of Mexborough,
Catherine, to Dupre, Earl of Caledon,
Elizabeth, to Lord Stuart de Rothesay, and Caroline, to John, Earl Somers.
He departed this life on the 18th November 1834, in firm reliance on the merits of his redeemer."

"The remains of his widow lie interred in the same vault.
She died on the 26th May 1858,
in the 95th year of her age."


[REVERSE]
"This tablet records the loss of PHILIP, Viscount Royston, born May 7th 1784,
who perished by shipwreck, in the Baltic, April 7th 1808.
The title devolved on his sole surviving brother CHARLES JAMES, Viscount Royston,
born July 14th 1797, died April 30th 1810.
In the same vault repose CHARLES born August 23rd 1787, died December 28th 1791.
JOSEPH JOHN, born August 12th 1800, died March 1801."

"This monument to the memory of her beloved husband and their lamented sons,
was erected by Elizabeth, Dowager Countess of Hardwicke."

"The Lord giveth, and the Lord taketh away: Blessed be the name of the Lord."


Notes:
Philip Yorke † died 18 November 1834, interred on 28 November 1834.
Elizabeth Yorke † died 26 May 1858, interred on 3 June 1858.
Charles Yorke † died 28 December 1791, interred 12 January 1792.
Charles James Yorke † died 30 April 1810, interred 6 May 1810.
Joseph John Yorke † died March 1801, interred 28 March 1801.

This white marble effigy of the 3rd Earl of Hardwicke (1757-1834)
was carved by Richard Westmacott junior and completed 10 years after the Earl's death.