A local history and genealogy site for Wimpole, a village and parish in South Cambridgeshire.
Curated by Steve Odell.



Home Page
Parish Registers

Wimpole People


A page that will allow a longer look at the life and times of Wimpole people and families than
is possible within the confines of the Parish Registers. And where they ended up...
Contributions welcome.
William Goates. (1817-1895)
Samuel Eusetius Hudson
John Conder D.D. (June 3, 1714 – May 30, 1781)



was an Independent minister at Cambridge who later became President of the Independent College, Homerton in the parish of Hackney near London. John Conder was the theological tutor at Plaisterers' Hall Academy in 1754; and residential tutor and theological tutor at Mile End Academy (1754 to 1769),then the theological tutor at Homerton Academy (1769 to 1781).



John Conder was born at Wimpole in Cambridgeshire on June 3, 1714. [Son of Jabez Conder and Elizabeth Linkern]. At the time the nonconformists were in great fear because of Parliament's Schism Bill under Queen Anne, passed as the Schism Act 1714. Following the accession of George I a degree of religious toleration was won for nonconformists, though with a number of legal restrictions and disadvantages that continued into the nineteenth century. Conder's first sermon as an Independent was preached in 1738 and he developed a successful ministry at Cambridge, at the Hog Hill church. In 1754 he left to take up an appointment as President of the Independent College at Homerton, near London. In 1762, he was accepted as pastor of a chapel at Moorfields in the City of London, where he served for a twenty-one years as minister. Conder wrote a number of works and hymns, including "Christ watches o'er the embers...", although his grandson Josiah Conder was the more prolific hymn writer in the family. Conder died in Hackney in London in 1781 and was buried in the Nonconformist cemetery of Bunhill Fields. His grave was originally marked by a very simple stone simply stating "Dr Conder 1781". An improved stone was added around twenty years later, which includes a verse written by Conder. The stones lie in the northern spur of the T-plan cemetery, against the west wall. A self-penned epitaph read: Peccavi, Resipui, Confidi, Amavi, Requiesco, Resurgam. Et ex gratia Christi, ut ut indignus, regnabo.
From a book on Mormon History

.


William Goates

emigrated to Lehi in Utah, USA and became a High Priest and City Councillor.





William Goates (1817-1895)



"William Goates, born at Wimpole, Cambridgeshire, England, May 11, 1817, was the son of James Goates and Ann Dockery.

"He spent his boyhood days working with his father, who was a professional gardener. The beauties of nature soon appealed to him, and he loved the trees and flowers and soon became an expert in their care and cultivation. He was baptized and confirmed a member of the Church of Jesus Christ of Latter-day Saints December, 1840, by Elder William Pierce and was sent the same day to Cambridge to preach. By his undaunted faith and zealous labors he was successful in establishing the first branch of the church at Cambridge, under the direction of the Bedford conference president, over which he was appointed to preside. Through his earnest labors and untiring efforts, Cambridgeshire afterwards became a conference.

"In [7 June] 1840 he married Susan Larkin [at the Zion Chapel, Cambridge], a daughter of Thomas Larkin and Ann Rayner. They always made their home a home for the elders; and bade them welcome there. He emigrated to Utah, sailing from Liverpool, England, Tuesday, February 10, 1852, with his wife and three children in the ship "Ellen Maria," with a company of 369 Saints. After eight weeks at sea they arrived at New Orleans. They then went to Saint Louis en route to Utah, crossing the plains in Captain A. O. Smoot's company of 31 wagons, and arriving in Salt Lake City September 3, 1852. About two weeks later he settled in Lehi with his family, consisting of his wife, Susan, and daughters, Sarah Ann, Martha, and son Joseph W., his daughter Mary having died before they left their home in England. In April, 1857, he married a plural wife, Rebecca Pilgrim, daughter of Samuel Pilgrim and Betsy Coote, a survivor of Captain Willie's hand cart company of 1856.

"His early life in Lehi was a struggle with the sterile soil. He acquired land by homestead and purchase and his busy hands began to build and to cultivate. He became extensively engaged in farming and stock raising, and was one of the first to import bees into Lehi. Hereafter he was long engaged in the bee and honey industry. He loved the flowers and trees and was the pioneer floriculturist and nurseryman of the town, his trees and flowers being shipped to many parts of the country.

"The industrial matters of the people always interested him and he was an ardent advocate of their enterprises, helping and encouraging them whenever he found an opportunity to assist. In 1867 his wife, Susan, died, and was buried in Lehi. She had stood faithfully by him in all the trials of pioneer life, encouraging and helping him in all that he undertook to do. She never complained, but was his source of comfort and encouragement, and contributed much to his success. "He was a man of un-blemished character. His sterling honesty was proverbial, his faith immovable and his self-control truly astonishing."

"He was always active and faithful in church matters, and honorably filled the positions mentioned below: President of the first elders' quorum in Lehi; he was ordained a high priest and set apart as first counselor to Bishop Evans April 4, 1877, and was afterwards appointed to preside over the Lehi branch of the high priests' quorum in the Utah Stake of Zion. He was elected City Councilman of Lehi City February 8, 1875, and served during the years 1875-1876. He was a public-spirited man and passed cheerfully through all the hardships and privations of the early settlers. He was a builder in very deed, his busy hands leaving many traces of their work both on the farm, in the garden, and in the orchard. He did special guard duty against the depredations of the Indians, helped build the "Old Fort Wall," and assisted in the early irrigation projects and road building.

"His unflinching devotion to that which he believed to be right and just won for him a host of friends who were always welcomed to his home. Here he spent his declining years engaged in the life-loved work of his boyhood days, enjoying the labor of his own hands in his well cultivated garden of flowers and trees. He died Wednesday at 5:50 p. m., October 23, 1895, of general debility. Beloved by all, he passed to the world beyond with the honors of a busy, well spent life upon him.

"He was the father of the following children: Mary, Sarah Ann, Martha, Joseph W., James T[homas]., John [Elijah 1859-1860]], William [Jnr], and George H[yrum]. His descendants number 408 souls."

George A. Goates

Taken from "The History of Lehi", by Hamilton Gardner, published in 1913 by the Lehi Pioneer Committee, Latter Day Saints (Mormons), Salt Lake City, Utah.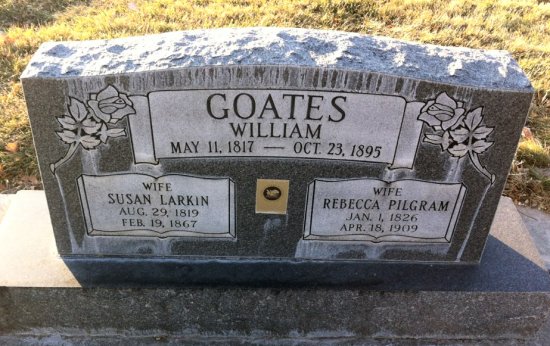 The gravestone of William Goates and plural wives Susan Larkin and Rebecca Pilgrim.
Contributed by Edward Hudson
Relates to Wimpole Marriage Register entries for 1795 and 1796.

Samuel Eusetius Hudson

Samuel Eusetius Hudson had an adventurous career. He was born into a lower middle-class background in Coleshill, Warwickshire, in 1764, baptised as plain "Samuel Hudson". Somehow he entered the service of Philip Yorke, the third Earl of Hardwicke, at Wimpole, and from there moved on to employment in late 1796 with Lady Anne Lindsay (Lady Hardwicke's sister) whose London salon was frequented by the cream of society from the Prince of Wales downwards. She had recently married a relatively unknown man, Andrew Barnard, whom she managed, through her political contacts, to find a job in 1796 as Secretary at the Cape, which the British had just grabbed from the Dutch.

The Barnards recruited Samuel Eusetius Hudson as a sort of general factotum to accompany them on the long voyage to Cape Town. Although he seems to have left the employment of the Barnards shortly after arriving at Cape Town, he remained there longer than they did, staying even after the Dutch grabbed the colony back in 1803 and returning to England only in 1807. During this time, he worked successively as customs officer and, in partnership with his younger brother Thomas who joined him at the Cape in 1799, property dealer, farmer, guest-house keeper, wine merchant and fine-art dealer. Prospering, he moved rapidly up the Anglo-Dutch social hierarchy in Cape Town. This social climb meant that, despite strong Evangelist leanings, he had to become a slave-owner, owning slaves being the norm among the Dutch settlers.

He remained in England - then in the midst of a powerful anti-slavery movement - until 1814, when he returned to the Cape. His business ventures were now less successful, and he ended up making ends meet as a teacher of drawing and painting until he died in Cape Town in 1828.

Samuel might have been forgotten like many another colonial adventurer, had he not been such a prolific writer. In addition to a journal of his voyage to the Cape, he kept a diary for much of his stay there, also writing essays on subjects that interested him, such as auctions, slavery, marriages, funerals, fruits, flowers, wines, brandies, buildings etc. He also managed to find time for a couple of (unpublished) novels and a seditiously (and therefore also unpublished) satirical comic opera as well as abundant notes on subjects ranging from astronomy to theology. These - now filling many volumes in the Cape Archives and the Library of South Africa - have recently become a main source for the social history of early nineteenth-century Cape Town and for the history of mentalities in the colony. Articles on his essays have been published at Princeton and his writings have been the subject of a thesis at Cape Town by K. McKenzie, summarised in 1993 in a book "The making of an English slave-owner: Samuel Eusebius Hudson at the Cape of Good Hope 1796-1807".

Unfortunately, all too little is known about his family background, the source of his vast but rather shallow education (he may have been self-taught, and the library at Wimpole Hall has been suggested as a possible element in this) and his activities before he set sail for the Cape. Much has to be deduced by surmise from oblique references in his writing. Now, thanks to your website, we can at least begin to date his presence at Wimpole. He may have been employed (possibly with his wife - perhaps called Hannah - and/or his mother, Lydia) as a senior servant. Your information has also demonstrated that he was using the middle name Eusebius before he left England. And you have even given us another unexpected clue: the reference in the 1796 marriage entry to "Richard Kyrwood". According to McKenzie's transcription, Samuel noted in his diary while at the Cape that he had "received a letter from my friend Hynwood that has reminded me of the pleasures I used to experience at Wimpole." No-one has been able to identify Hynwood, but there now seems a reasonable chance, given the similarity of spelling and the problems of transcription in both sources, that he is the same as your Richard Kyrwood (who, I see from your index, also appears as witness to two marriages in 1795).

Edward Hudson
December 2002